Day 1 :
Keynote Forum
Temple University, USA
Time : 10:05-10:35

Biography:
Byungse Suh has completed his BS in Pharmacy in 1962 from Chung-Ang University, Korea; MS and PhD in Microbiology in 1967 and 1969, respectively from the University of Kansas; Postdoctoral studies in Biochemistry from University of Iowa; and MD from the University of Miami in 1973. He has completed Internal Medicine Residency Training (1973-1976) and an Infectious Disease Fellowship (1976-1978) at the University of Wisconsin School of Medicine and Public Health. He has published more than 110 papers and is a Professor at Temple University School of Medicine since 1978.
Abstract:
Bacteriophages, viruses that parasitize bacteria, were first discovered by Frederick Twort over a century ago in 1915. They were independently rediscovered by Felix d'Hérelle in 1917, and he coined the term, bacteriophage that translates into bacterial eater from the Greek. Shortly afterward, bacteriophages were used as therapeutic agents for bacterial infections during the 1920s and 30s. Phage research and therapy was actively pursued in the country of Georgia and other parts of east and central Europe well into the 1970s. However in most parts of the world, the discovery of safe and effective antibiotics replaced phage therapy. Bacteriophages are widely distributed around the planet and the estimate is that there are 1031 phage particles – a number that is ten to one hundred times the number of bacteria. Phages are host specific and rely on the presence of attachment sites that are not only species but often strain specific. Thus when they are applied, they can eliminate the bacterium of interest without disturbing the rest of the microbial flora. Now that antibiotic resistance has become widespread and the number of new antibiotics has dwindled, it is critical to look at new strategies for the management of multi-drug resistant organisms. The list of alternatives includes vaccines, monoclonal antibodies and phages. While phages are not currently used for direct therapeutic benefit, they have been applied in Europe to eliminate the pathogen, Listeria, from cheese products. In the past, phages were directly administered to humans for the treatment of dysentery, Pseudomonas aeruginosa-mediated chronic otitis or pulmonary infection, vancomycin-resistant Enterococcus faecium sepsis, mixed infections caused by Staphylococcus aureus and Streptococcus pyogenes, E. coli O157:H7 enteric infection and infections in cystic fibrosis patients caused by Burkholderia cenocepacia. Any effort to restart the therapeutic usage of bacteriophages would require research funding and development of regulations parallel to those in place for antibiotics or other drugs licensed for use in humans.
Keynote Forum
University of Florida, USA
Time : 10:35-11:05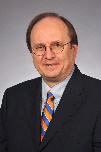 Biography:
Hartmut Derendorf is Distinguished Professor, V Ravi Chandran Professor of Pharmaceutical Sciences and Chairman of the Department of Pharmaceutics at the University of Florida, College of Pharmacy in Gainesville. He currently also serves as the 18th University of Florida Distinguished Alumni Professor. He has published over 450 scientific publications and nine textbooks in English and German. He is Editor or Associate Editor of five Journals such as the Journal of Clinical Pharmacology. He has served as President of the American College of Clinical Pharmacology and President of the International Society of Anti-infective Pharmacology. He was awarded the Distinguished Research Award, the Mentorship Award and the Nathaniel T Kwit Distinguished Service Award of ACCP, the Research Achievement Award in Clinical Science of the American Association of Pharmaceutical Sciences, the Leadership Award of the International Society of Pharmacometrics and the Volwiler Award of the American Association of Colleges of Pharmacy.
Abstract:
The cost of drug development has exploded in recent years and risen to a level that soon will no longer be affordable to society. One reason for the high cost of drug development is many unnecessary studies where the results could have been predicted with reasonable certainty. PK/PD modeling is a tool that can be used to collect and integrate all the available information about a drug candidate and its class in order to make rational decisions on studies that will decrease the uncertainty of the compound. In the drug development process, it bridges the complete cycle from discovery to clinical use. The advantage of this approach is to define objective go/no-go decision criteria for the development process rather than relying on subjective empirical decisions. There is no way that today all developing questions can be answered by experimental evidence, and modeling and simulation is a powerful alternative approach. This modeling and simulation approach is of particular need in the field of new anti-infective agents where the rise of resistance has become an international threat to society. However, very few drug companies are currently developing new antibiotics due to the poor perspective of return on investment. However, the cost of anti-infective drug development can be dramatically lowered by applying pharmacometric concepts and selection of some key experiments based on pharmacokinetic/pharmacodynamic (PK/PD) concepts. Using microdialysis, it is today possible to measure the local exposure at the infection site in both animals and humans. This PK information is much more useful than traditional serum pharmacokinetics. Furthermore, pharmacodynamic activities can be much better captured by analyzing time-kill curves rather than simple minimum inhibitory concentrations (MICs). Examples from various classes of antibiotic drugs will be presented where these concepts are applied and illustrated. Application of these concepts will help to develop new anti-infective treatments at low cost to combat resistance development with optimum efficacy and safety.
Break:
Networking and Refreshment Break 11:05-11:20 @ Garden Bar floor-1
Keynote Forum
University of Antwerp, Belgium
Time : 11:20-11:50

Biography:
Professor Surbhi Malhotra-Kumar is a clinical and molecular microbiologist, actively involved in the development of high-throughput and POC diagnostic assays for hospital and community pathogens. Using state-of-the-art molecular techniques, she is studying the impact of antibiotic use at the individual level and the role of virulence factors in biofilm formation as well as utilising metagenomics to study bacterial pathogenetic mechanisms and antibiotic resistance.
Abstract:
Antimicrobial resistance in Gram-negative pathogens in both hospitals and the community is an emerging and serious global public health threat. Carbapenems have been the major therapeutic option for infections caused by resistant Enterobacteriaceae including those producing extended spectrum ß-lactamases. However, the increasing prevalence of carbapenemases, enzymes that deactivate carbapenems and most other ß-lactam antibiotics, among Enterobacteriaceae has precipitated the re-introduction of 'old' antibiotics like the polymyxins. Expectedly, increasing use of the polymyxins such as colistin has led to the global emergence of resistance for this antibiotic as well. In this respect, nitrofurantoin is another 'old' antibiotic that has been used for decades for the treatment of urinary tract infections in the community, but clinically significant resistance in Escherichia coli remains yet uncommon. With these viewpoints, this talk will address to the molecular epidemiology and to the mechanisms underlying emerging resistance to these antibiotics in relation to their mechanisms of action
Antibiotics | The Emergence of Antimicrobial Resistance | Antibiotic Resistance: Opportunities and Challenges | Drug Discovery and Novel Delivery Technologies | Antibiotics for Emerging and Re-emerging Diseases | Antibiotics and Mechanism of Action | Different Types of Antibiotics and their Applications | Micro Organisms in Recent Drug Discovery
Location: Conference Hall- Manzoni+Montenapoleone
Chair
Tadashi Shimamoto
Hiroshima University, Japan

Co-Chair
John James Stewart Cadwell
FiberCell Systems Inc., USA
Session Introduction
FiberCell Systems Inc., USA
Time : 11:50-12:15

Biography:
John James Stewart Cadwell received his degree in Pharmacology from the University of Miami in 1981. He spent additional time studying at the University of Nottingham and the National Institute of Medical Research at Mill Hill, outside of London. He served in various capacities in the Biomedical Research fields until 2000 when he became Founder of FiberCell Systems Inc. a company specializing in the research and supply of hollow fiber bioreactors. He has over 10 publications in the field and three patents relating to hollow fiber systems and is considered a world expert in the field
Abstract:
The recent introduction of the hollow fiber infection model represents an important advancement in the field of in vitro toxicology. Many toxicologists believe in vitro testing methods are a useful, time and cost effective tool for drug discovery but it is generally accepted that many of the available tests are not effective for examining the effects of both time and concentration, and do not closely mimic human kinetics. This is because they do not properly take into account pharmacodynamic actions (what a drug does to the body) and pharmacokinetic actions (what a body does to the drug). With the use of hollow fiber bioreactor cartridge this has now changed. The hollow fiber infection model is a useful addition to standard in vitro toxicology methods as it mimics changes in drug concentration over time, as they would occur in humans. The hollow fiber infection can mimic precisely human bioavailability, study meaningful numbers of organisms to reveal emerging resistance, mimic both adsorption and elimination curves, define total kill in a closed, biosafe system. The clinical utility of the HFIM has been demonstrated and is now endorsed by the EMA. An overview of historic pk/pd models is presented and the utility of the system as it relates to antibiotics and other drugs are discussed.
Universite Paris Descartes, France
Time : 12:15-12:40

Biography:
Marie-Agnes Sari is Professor of Biochemistry at Paris Descartes University and Head of the Laboratory of Chemistry and Biochemistry, Pharmacological and Toxicological research (UMR 8601 CNRS) and research interests are linked to metalloenzymes, or enzymes and peptides involved in metal transport, especially iron
Abstract:
Urinary tract infections (UTI), affecting 150 million cases per year worldwide, are the main cause of medical antibiotic prescription. However, uropathogen E. coli (UPEC) responsible for UTI are increasingly resistant to antibiotics, indicating urgent need for new therapeutic alternatives. The goal of our project is to explore hepcidin as a new antimicrobial peptide. Hepcidin is a cysteine rich, β defensin like peptide hormone that acts as the key regulator of body iron metabolism. Hepcidin regulates iron homeostasis in human through the binding of the sole iron exporter protein, ferroportin inducing its internalization prior degradation by lysosomes. Besides the liver that is the major source of bloodstream hepcidin, this peptide is expressed in epithelial barriers that are frequently confronted to pathogen infection, including kidneys. However, hepcidin belongs to defensins family and was observed to have an in vitro antimicrobial activity. We hypothesized that hepcidin was involved in host resistance to UPEC in renal epithelia where iron limit may be efficiently regulated. Hepcidin role against urinary tract infection was investigated using HepC-/-mice and synthetic hepcidin. Several recombinant hepcidins were produced as biologically active, ferroportin-binding peptide in E. coli, or yeast and synthetic hepcidin analogs were prepared and compared for their antibacterial activity on E. coli, B. subtilis and S. aureus. Bacteriostatic activity of hepcidin was demonstrated in vitro on CFT073 (a prototypical pyelonephritis-associated E coli strain). Evidence will be presented demonstrate that hepcidin is an effective mediator against UPEC infection and acts to prevent pathogenesis in the kidney in mice.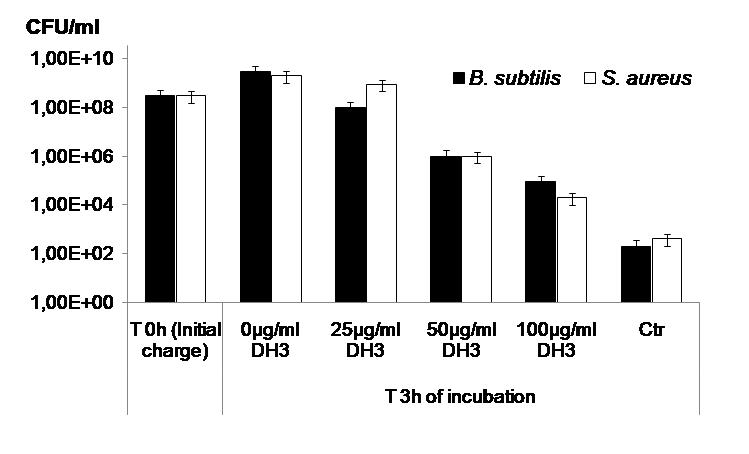 Figure 1: Structure of the mouse hepcidine analog and evaluation of its antimicrobial activity.
Toyama Prefectural University, Japan
Time : 12:40-13:05

Biography:
Yasuhiro Igarashi studied at the University of Tokyo and received his PhD degree in Organic Chemistry in 1992. After two years of research activity at Fujifilm Corporation, he conducted Postdoctoral Research at Johns Hopkins University for two years. In 1996, he joined the faculty at Toyama Prefectural University, Japan, as Assistant Professor. In 1998, he was appointed Associate Professor and, in 2009, was appointed Professor. He is the author of up to 200 papers and has been the Editorial Board Member of The Journal of Antibiotics since 2011. For the last 20 years, he has focused his efforts on discovering novel bioactive compounds from natural resources.
Abstract:
Free radicals including reactive oxygen species (ROS) show a wide range of antimicrobial activity through oxidative damage to cellular components such as proteins and DNA. Some inorganic and organic compounds are known to generate ROS. Titanium oxide (TiO2) catalyzes the formation of superoxide and hydroxy radical under the light. Some porphyrins have ability to generate singlet oxygen that kills viruses. Low specificity of ROS toward biomolecules seems uncontrollable, however it becomes an advantage that can avoid and overcome antibiotic resistance. ROS randomly react with multiple biomolecules, which does not allow microorganisms to acquire resistance. Fossil seashell (FS) is a kind of minerals mined in our district, Toyama, Japan. It has been used as a fertilizer or water-cleaner by local farmers. Pathogen protection effects in crops are known for many years but scientific investigations have not been made to date. In this study, we investigated the antimicrobial activity of FS powder. Its water suspension liquid displayed growth inhibition against representative human pathogens Escherichia coli, Staphylococcus aureus, Candida albicans and Trichophyton rubrum. As an active principle, we detected superoxide in the FS suspension. The major component of FS is calcium carbonate (CaCO3) which is changed to calcium oxide (CaO) by burning to expel carbon dioxide. As this burning process is essential to activity, CaO is likely responsible for superoxide generation. The detailed mechanism is under investigation. Considering the mode of action, there may be very low possibility of occurrence of resistance to superoxide. Broad antimicrobial spectrum of FS against bacteria and fungi is attractive as a sterilizer. FS is stable for years and only water is needed to prepare FS powder suspension. It can be used for sterilization of food and skin to prevent oral infections or food poisoning. Effectiveness of FS in the treatment of skin or oral infectious diseases shall be investigated to explore its potential in medical usage.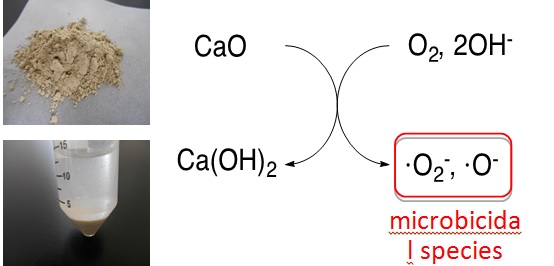 Break:
Lunch Break 13:05-13:45 @ Restaurant- Ground floor
Qatar University, Qatar
Time : 13:45-14:10

Biography:
Nahla Omer Eltai has completed her PhD from Humboldt University, Berlin, Germany. She did Postdoctoral studies from University of the West of England, UK. She is Research Associate at Biomedical Research Centre, Qatar University. She has published many papers in the field of Antibiotic Resistance. Her research interests are multidisciplinary with emphasis on molecular diagnostic approaches, antimicrobial susceptibility & resistance, test of new natural antimicrobial agents. She is adopting the one health system approach by studying antimicrobial resistance in agriculture, environment and human in Qatar
Abstract:
Antimicrobial resistance (AMR) is a growing public health concern worldwide and is one of the top health challenges facing humanity in the 21st century. AMR among Enterobacteriaceae is rapidly increasing especially to third-generation cephalosporins and carbapenems. Further, strains carrying mobilized colistin resistance (mcr) genes 1 and 2 have been isolated from humans, food-producing animals, and environment. Uncontrolled use of antibiotics in animals in large scale could be one of the major contributing factors to generation and spread of antibiotic resistance. No studies have been done to evaluate antimicrobial resistance in animals in Qatar. This study aimed at establishing a primary baseline data for prevalence of antimicrobial resistance among food animals in Qatar. 172 fecal samples were obtained from two broiler farms and one live bird market in Qatar and 90 Escherichia coli (E. coli) bacteria were isolated and subjected to antimicrobial susceptibility testing using Etest method. 90% (81/90) of the isolates were resistant to at least one of the 16 tested antibiotics. 15.5% (14/90) of the isolates were colistin resistant, 2.2% (2/90) were extended spectrum β lactamase (ESBL) producers and similar percentages were multi-drug resistant (MDR) to four antibiotic classes. ESBL-producing E. coli and colistin resistant isolates were confirmed using double disc susceptibility testing and PCR, respectively. In Summary, Our results indicate high antimicrobial resistance in food producing animals in Qatar, including ESBL and colistin resistance. Such AMR bacteria could be easily transmitted to humans through consumption of undercooked food or noncompliance with hygiene practices, which mandates prompt development and implementation of stewardship program to control and monitor the use of antimicrobial agents in community and agriculture
iNtRON Biotechnology, South Korea
Time : 14:10-14:35

Biography:
Kang M S has earned his BS to PhD degrees from Department of Biology at Seoul National University, Korea. After his PhD, he did his Postdoctoral Research Fellowship at Department of Microbiology and Molecular Genetics, Harvard Medical School/Brigham and Women's Hospital. He then joined as a Professor and Faculty at Samsung Medical Center, Center for Future Medicine. Since 2016, he has been a Chief Scientist and Vice Director of Institute of iNtRON Biotechnology. He is interested in development of bacteriophages and phage –derived bio drugs for effectively controlling bacterial infections
Abstract:
Statement of the Problem: Emergence and dispersal of multidrug-resistant Staphylococcus aureus (SA) (MRSA) are rapid and wide, necessitating an invention of novel class of MRSA-controlling effective antimicrobial drug that is not likely to induce a resistance. This presentation describes our 15 year-long experience in development of a bacteriophage-derived endolysin as promising new antibiotics.
Materials & Method: A bacteriophage SAP-1 specifically infecting SA was isolated from sewage water. Whole genome sequencing revealed typical genomic structure of lytic bacteriophage and identified putative peptidoglycan (PG) hydrolase gene encoding SAL-1 endolysin. The wild type SAL-1 with no extraneous amino acids was highly purified in compliance to a good manufacturing practice (GMP) standard and further formulated to N-Rephasin® SAL200.
Findings: SAL200 showed to have unique modes of action: It potently and specifically killed planktonic and encapsulated SA as well as biofilm-producing SA cells, but not for other species. SAL200 exhibited strong bactericidal activity against more than 425 clinical isolates including 1 vancomycin-intermediate SA and 336 methicillin-resistant SA isolates. It directly bound to and lysed SA as quickly as within ten minutes and apparently did not induce an emergence of any resistant SA strains from 30-times repeated exposure at sub-lethal concentrations. Intravenous injection of SAL200 significantly prolonged survival of mice and reduced viable bacterial counts in MRSA infection mouse model. Further safety evaluation studies for rodents, dogs and monkeys showed neither death nor severe adverse events. Any abnormal findings-if any- were tolerable and transient.
Conclusion: The SAL200 specifically lysed SA strains including antibiotic-resistant SA strains in vitro and in vivo with excellent in vivo safety.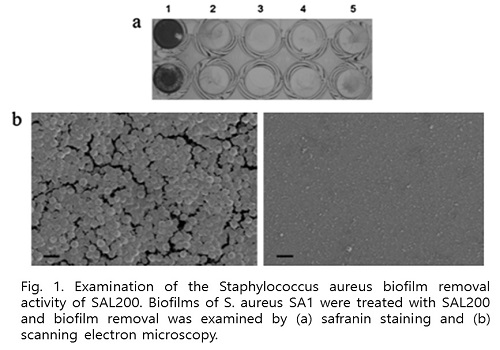 University of Gloucestershire, UAE
Time : 14:35-15:00

Biography:
Abstract:
Background: Bacterial resistance to the antibiotics is considered as natural phenomenon that occurs naturally over the time due to genetic changes. However, various factors lead to the acceleration of this process and resulting in antibiotics resistance. These factors include the overuse and the misuse of antibiotics, for example, taking an antibiotic for a viral infection like influenza (World Health Organization, 2016). This may be attributed to consumer's lack of knowledge about the correct use of antibiotics, or it may be due to their wrong habit about using the antimicrobials. A key among the causes of the increased antimicrobial resistance is self-medication and drugs on one's own initiative without consulting a qualified medical practitioner (Bennadi, 2014; p.19; WHO 2001, p.21 ). Bacterial resistance to antibiotics is increasing significantly in the UAE (Al-Dhaheri et al., 2009).Antibiotics use without prescriptions has been reported to be high among university's students worldwide (Javed, 2013; Awad andEltayeb, 2007; Sawalha, 2008; Sarahroodi et al., 2010; Sharif and Sharif, 2013; Ehigaiator et al., 2013; Badiger et al., 2012 and Kumar et al., 2013). There was no extensive studies that explore the reasons for misusing antibiotics among university students worldwide. Therefore, it was necessary for this study to investigate this type of irrational use of drugs in UAE.
Objective: The purpose of this research is to measure the prevalence of irrational use of Antibiotics by university students in UAE and identifies the reasons for this irrational drug use using mixed methodological approach.
Methods: A mixed methods research design with a sequential explanatory strategy was adopted to conduct this research (Creswell 2011; Cameron, 2009). The first quantitative cross-sectional analytical study was conducted from January to April 2014 with 2,875 students at three randomly selected UAE universities. The aim was to measure the prevalence and risk factors for misusing antibiotics among university students. A structured and validated questionnaire was used to collect the responses of the students. SPSS version 20 was used to analyze the data. A second interview study investigated first-year healthcare students at high risk of using antibiotics without prescription, with a purposefully selected sample. The aim was to further explore common themes related to their knowledge, awareness, attitude, views, and perceptions as well as possible strategies to decrease their misuse of antibiotics. Data were analysed thematically for the identification of themes and subthemes within the data through the use of coding
Findings: More than one third of users (484 of 1384, 36%) were reported using antibiotics without prescription during the 90 days prior to the present study. Of those medical students (n=492), 36.8% reported using antibiotics. Also, of those non-medical students (n=856), 36% of them were using the antibiotics, but the difference was statistically not significant (p-value= 0.608). Nine risk factors were identified for using antibiotics. Being Expatriates (OR = 0.471, 95% CI: 0.326-0.681, p<0.001). Participants who were influenced by the cost of Oral Non-Prescription Drugs (ONPD) (OR = 1.716, 95% CI: 1.175-2.508, p<0.005). Participant believing that ONPD are moderately effective (OR = 0.332, 95% CI:0 .135-0.815, p<0.02) or ineffective (OR =0 .400, 95% CI: 0.161-0.994, p<0.05) had significantly lower odds of using antibiotics in SMP compared to those who believed that ONPD are effective. Participants with good medication knowledge (OR = 0.619, 95% CI: 0.443-0.866, p < 0.005). Also, participants in their fourth year of study (OR = 0.310, 95%, CI: 0.141-0.681, p < 0.004), fifth year of study (OR = 0.243, 95%, CI: 0.088-0.666, p < 0.01), or sixth year of study (OR = 0.101, 95%, CI: 0.015-0.678, p < 0.02) had lower odds of using antibiotics in SMP compared to participants in their first year of study. Being a medical student was a risk factor for using antibiotics in SMP (OR = 1.465, 95%, CI: 1.012-2.120, p < 0.05). Overall the second interview study identified four main themes with multiple subthemes related to the use of antibiotics without a physician's prescription by first-year healthcare students. The thematic analysis of the interviews revealed four main themes:
Medication habits and practices
Reasons for self-medication
Access to antibiotics without a prescription
Gaps in students' knowledge regarding antibiotic resistance
Conclusion: The prevalence of using antibiotics is high among university students in UAE. There is a need for an educational intervention to motivate students to be use antibiotics wisely.
B P Koirala Institute of Health Sciences, Nepal
Time : 15:00-15:25

Biography:
Tula Krishna Gupta has completed his MD in General Practice and Emergency Medicine from B P Koirala Institute of Health Sciences, Dharan in 2016 September. He is a Senior Resident in General Practice and Emergency Medicine Department of B P Koirala Institute of Health Sciences, Dharan, Nepal.
Abstract:
Introduction: Recently, UTI became more complicated and difficult to treat because of appearance of pathogen with increasing resistance to antimicrobial agents. It is useful to obtain the local sensitivity pattern in the hospital setting so as to guide empirical prescribing.
Methods: This is a prospective hospital based study to identify the organisms causing UTI and their antibiotic susceptibility. A total of 400 urine samples were collected from the patient attending general OPD of BPKIHS, Dharan, Nepal. Consecutive patients presenting with symptoms of UTI had their clean catch midstream urine analyzed. Quantitative urine culture was performed by using calibrated loop direct streaking method of 4 mm diameter nichrome loop delivering 0.001 ml of uncentrifused urine specimen which was inoculated onto cysteine lactose deoxycolate agar medium and incubated at 37 degree centigrade for 24 hours.
Results: Out of 400 patients, 163 (40.7%) showed bacterial growth. Escherichia coli was most common (68.7%), followed by Klebsiella spp. (7.4%). There was a female dominance of 2.79:1 compared to males. Infections were most common in young adults (20-29 years). The most effective antibiotic was Nitrofurantoin (89.7%).
Conclusion: The most common causative organism for UTI was Escherichia coli, and the best first line antibiotic was Nitrofurantoin. This study provides useful information for health practitioners of all levels in the eastern region of Nepal. As the data was collected in the general outpatient department it represents mostly community acquired, rather than hospital acquired urinary infection and may be used as an aid to choice of antibiotic in the community setting.
Changi General Hospital, Singapore
Time : 15:25-15:50

Biography:
Tie T K has completed his BPharm in 2007 from Curtin University of Technology in Western Australia. He has a Postgraduate Master's Degree in Infectious Diseases from the University of Western Australia in 2014. He is currently practicing as an Antimicrobial Stewardship Pharmacist at Changi General Hospital. His research interest is in infectious diseases especially related to Clostridium difficile.
Abstract:
Background: Ertapenem use has been associated with central nervous system (CNS) related adverse effects (AEs) which include delirium, hallucinations, altered mental status (AMS), stroke like symptoms and seizures. We described baseline characteristics and clinical features in 4 patients who developed CNS related AEs while receiving ertapenem during a period of six consecutive months in 2016.
Methods: We retrospectively reviewed patients on ertapenem and identified the ones who developed CNS related AEs attributed to ertapenem use from April till October 2016.
Results: Patient 1 (no renal impairment) was prescribed ertapenem for complicated intra-abdominal infection. He was noted to be drowsy on day 12 of ertapenem. Over the next 1-2 days he developed auditory hallucinations, jerky limb movements and fluctuating level of consciousness. He was switched to aztreonam. Patient 2 (no renal impairment) has developed confusion and hallucinations (visual, auditory and tactile) on day 25 of ertapenem which was being administered for tubo-ovarian abscess. Ertapenem was substituted to meropenem. Patient 3 (known end stage renal failure) developed seizure while on day 28 of ertapenem which was prescribed for bilateral renal abscess. No further episode of seizure was observed after ertapenem was switched to piperacillin/tazobactam. Patient 4 (known chronic kidney disease) was receiving ertapenem for complicated urinary tract infection. He was noted to be delirious on day 9 of ertapenem. Patient was switched to meropenem. In these patients, average age was 65 years. Male to female ratio was 1:1. None of the patients had previous history of seizure or CNS disorders. Two patients had normal renal functions. Toxic and metabolic causes were excluded. Computed tomography (CT) of brain was normal in all cases. Dose was renally adjusted in 2 patients. Ertapenem therapeutic drug monitoring (TDM) was not locally available. Symptom improvement was noted 3-4 days after ertapenem discontinuation in all patients.
Conclusions: Patients who developed these AEs can deteriorate rather unexpectedly which leads to extensive investigations and increase in health care cost. The cost can be minimized if physicians are acquainted to consider ertapenem as an offender agent. However appropriate workup to eliminate alternate etiology also needs to be considered at the same time as dictated by the clinical scenario. Ertapenem TDM might give information on CNS AEs in future studies.
University of Bologna, Italy
Time : 15:50-16:15

Biography:
Andrea Barbarossa has his expertise in many aspects of Veterinary Pharmacology. These include pharmacokinetics/pharmacodynamics and residues studies, but also antimicrobial resistance. In this context, he took part in a project of the University of Copenhagen focused on identifying synergies between antimicrobial and non-antibiotic drugs commonly used in veterinary medicine as a possible strategy to restore antimicrobial susceptibility in MRSP. In parallel, he took part in a 3 years project promoted by the Emilia Romagna Regional Veterinary Service aimed at understanding how antimicrobials are used in veterinary medicine and at developing specific guidelines for their correct use in pets, swine and bovine. It has already been demonstrated how these tools can be helpful at containing antimicrobial resistance
Abstract:
Statement of the Problem: Antimicrobial resistance (AMR) is considered a major public health issue and there is an increase in its prevalence in both humans and animals. Lately, many studies focused on the role of pets in AMR diffusion, highlighting the lack of data on prescribing patterns and the need for guidelines for the correct use of antimicrobials in these species. Studies in literature demonstrated that the adoption of guidelines helped improving prescribing patterns and reducing antimicrobial use. The purpose of this study was to gather data on antimicrobial prescribing patterns for pets in Emilia-Romagna Region and to use these results while drawing up guidelines for small animal practitioners.
Methodology & Theoretical Orientation: In the context of a regional project on antimicrobial resistance, small animal practitioners were invited by the Veterinary Professional Association of Emilia Romagna to voluntarily complete an online questionnaire, aimed to understand their prescribing habits and how they apply biosecurity measures. A group of experts then analyzed the collected data and, based on recent regulations, scientific data and personal experience, issued practical guidelines. These include specific chapters, tackling the different aspects that could be of interest for the everyday practice of small animal veterinarians.
Findings: The most commonly prescribed antimicrobials resulted penicillins, fluoroquinolones and cephalosporins; critically important antibiotics were employed mainly to treat urinary tract infections. A general awareness of the AMR issue and of the importance of applying biosecurity measures were encouraging outcomes.
Conclusions & Significance: This overview of the prescribing patterns of antibiotics represented a useful tool for issuing guidelines on the correct use of these drugs in small animal practice. Guidelines will be soon available for all veterinarians, hoping that the provided practical information will be a useful for containing antimicrobial resistance.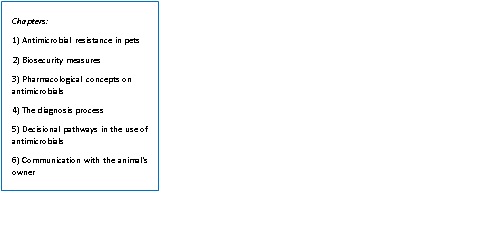 University Medicine Greifswald, Germany
Time : 16:15-16:40

Biography:
Georg Daeschlein received the MD degree from Christian-Albrechts-Universität Kiel, Kiel, Germany, in 1985 and specializations in Laboratory Medicine, in Microbiology and Epidemiology, in Hygiene and Environmental Medicine and in Dermatology from University Medicine Greifswald, Germany, in 1993, 1995, 2005 and 2014, respectively. In 2011, he acquired his Habilitation in Hygiene and Environmental Medicine. Since 2006, he has been the Registrar and Head of the Dermatologic Laboratory in the Department of Dermatology of the University Medicine Greifswald and conducts the research group plasma-medicine and antimicrobial procedures.
Abstract:
Background: Cold atmospheric plasma (CAP) could be considered as an alternative against multi-drug resistant (MDR) pathogens. Susceptibility to CAP of clinical isolates of enterococci depending on antibiotic resistance was investigated in pure culture regarding the most important resistance patterns.
Patients & Methods: 6 groups of enterococci (39 isolates) were treated on agar using dielectric barrier discharge plasma (DBD). These included enterococci with combined vancomycin- and high-level gentamicin resistance, with high-level resistance to gentamicin (HLGR) only, with vancomycin resistance alone (VRE), and enterococci susceptible to both. Isolates showing high-level resistance to gentamicin were placed together in a separate group, as well as isolates with vancomycin resistance. Susceptibility was evaluated based on the zones of inhibition (ZOI) and examined in terms of the enterococcal group and the degree of drug resistance.
Results: CAP-treatment killed all groups. Significantly smaller ZOI were obtained with MDR-groups: VRE-isolates showed significantly smaller ZOI than non-VRE-isolates and HLGR-isolates showed smaller ZOI than non-HLGR-isolates. The mean of all isolates, irrespective of belonging to groups, showed smaller ZOI with increasing drug resistance.
Conclusions: CAP-treatment killed all isolates of enterococci, but its efficacy depended on the degree of drug resistance and on membership in special resistance groups with particular clinical-outbreak importance.
Figure 1: Mean (SD) ZOI (mm²) of all enterococci by respective resistance group (RG).